CORY BENNETT + ARTIST
Traveling back to the college days in San Luis Obispo, CA Cory has been creating art in one way or another since the first day I met him. He was that dude you'd spot cruising around town grabbing a bite or running errands and on any corner you'd hear someone shout 'What up Cooryyyyyyyyyyy' as he skated by. Everybody knows Cory. What everyone didn't know, at that time, was that he was experimenting with new mix media techniques, and honing his craft becoming a more established artist everyday. What started out as tagging custom wheat paste stickers around town of birds or fashion models stencils, ended up landing him a exclusive section at the Art Motel at last years Life Is Beautiful Festival in Las Vegas. From an audience of a couple hundred to over a hundred thousand (In attendance at LIB 2015), his work has been viewed in galleries in North America, and Asia. That fro and sunglasses are getting famous! It's been a couple years now since he and his wife moved to Bainbridge Island near Seattle, WA. Last summer they just bought a house and were making all the necessary preparations for their first baby. It just so happens I was producing a tv show up there for 16 weeks, so I spent a good part of my weekends off assisting him remodel the kitchen, blazing trails in their backyard toward the creek at the end of their property, and setting up his new art studio. I got a chance recently to sit down and catch up with Cory, learn about what it's like to be a dad for the first time, find out about working with Lexus, and one of the craziest Walmart stories I have ever heard.
JOSH: How long have you been creating art? CORY: I took my first art class in 2004 w/ Ann Stahl intro art Cuesta college. Didn't really start painting on wood till 2006 I would say my first painting was a colorful painting titled snufftheluff.
What inspires you? I'm inspired a great deal by color and it's ability to make me feel. I get a great deal of inspiration from connecting with people laughing, joking, hanging out, making good times.
You're recently a father, tell me what that's like and if and how it's influenced your art? Wow so many ways! It's a lot harder to get In the studio so when I do I find myself more prepared with my ideas! A lot of what I do comes from the moment like a jam but now I find myself writing more thought out complete songs.
You're from Vegas, you did the SLO scene, you grew and chilled in LBC now you're up in the PNW. Tell me what that's like and the impact, if any that has had on your work? I'm influenced so much by places I've lived. I try to show these places in most all my paintings by using maps of the towns I know and love. My work def has evolved over the yrs as I move around I'm very excited to see it's evolution in the next couple yrs living in the pnw.
All time favorite band? Now? And Timeless? Favorite Karaoke song? All time - Got to go with my man Chaze Bundick from Toro Y Moi, Now - Olympic Ayers and Tame Impala. Timeless - MJ or Elton John. Karaoke - Nelly.
Del Taco or Taco Bell? Tough one I love Dell Taco fries but for drunken munchies I must say Taco Bell.
Name some of your biggest clients/shows that you have done. What would be your dream client/show? This year I got to work with Lexus doing a 5 piece series of the 2016 model fleet. Turned out great and look forward to working with them in the future.
Artists in the game that are killing it right now? Tristan Easton. Human. Apexer. Hush. Shepard.
Tell me a Walmart story. So I'm going camping so I buy up all my supplies batteries underwater camera little grill flashlight all the goods. Pay walk out as I'm walking out the front door I get a phone call from my dad reach down to pick up my phone say hello then to throw away some trash from my pocket turn around and sure enough my cart is empty and some dude is running off with all my shit!!! Walk back inside and tell the security guard what had just happened. He said man that's to bad but your off Walmart property and I'm like bullshit I was literally standing on your door step!! So I grab everything on my receipt being it to the returns counter tell the lady what happened and went on my way. As I'm walking out to my car some undercover secret shopper girl is like what's you think your doing you're stealing all this. I'm like, what here's my receipt. She says we've been watching on the cameras and your stealing I almost slapped her. The detained me in the back office till the cops came. All and all I had to pay twice.
You work alone, whether it's in a attached garage, hotel room converted into a studio, man, even a pop up hunting tent in the middle of the forest on an island… tell me how you stay inspired and motivated? Man I try to look @ everything like it's art!! Color schemes shapes fades. I try to get in the studio everyday and do something that feels fluid as well as working on multiple works @ the same time allowing myself to layer layer layer.
Any regrets? Career wise or personally? No regrets I try and seize every opportunity that comes knocking.
Any amazing projects that are coming up you can share some secrets about? I'm really excited to show in my first museum in 2017 I have a good feeling about the work to come.
Who is your favorite Disney Princess? Think I gots to go with Bell from Beauty and the Beast she sees what others cannot.
It rains a lot in WA. You dig sunshine. Have you been more or less productive being stuck indoors? I would say more productive due to the lack of sunshine and opportunity to play in the sun.
What does 2016 hold for you? So much laying out the calendar now. La Jolla, Ca gallery show in March!!! Las Vegas Museum of Art in June!! Who knows hopefully opportunity will be coming over and knocking on my door a lot this year.
Best of luck this year brother, I know you're gonna keep killing it like you have been! Thanks for doing this interview.
Check out his work below: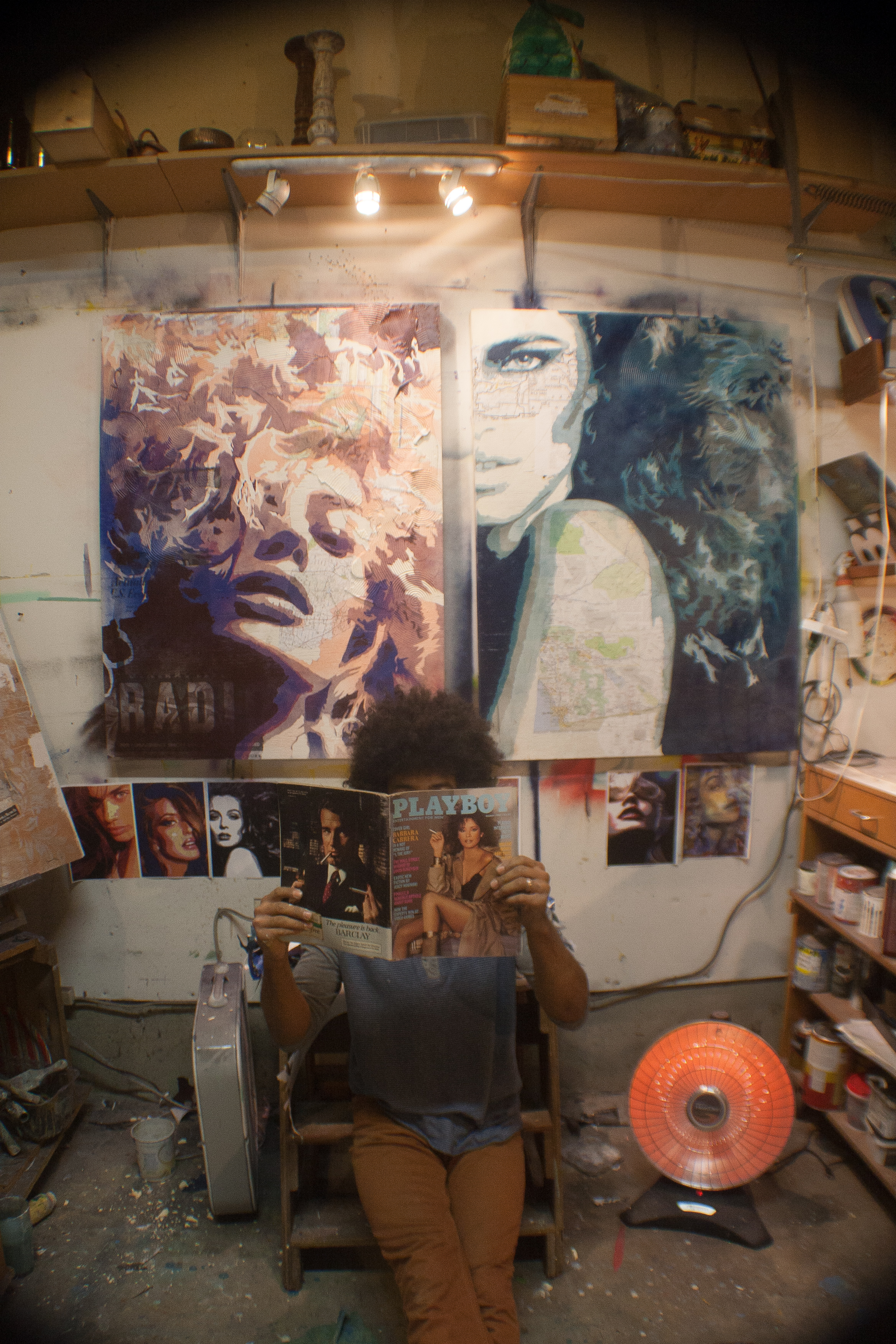 artwork and photographs by cory bennett*
all photographs and interview questions by joshua caine, otherwise noted*